Giada MiniPC barebone VM23 Intel Celeron Quad Core N3450, HD Graphics 550, 4 GB DDR3-L on-board, 32 GB EMMC, 1x mSata, 1x GB Lan, M.2 slot for WiFi, 2 x USB2, 2x USB3, HDMI, DP, Black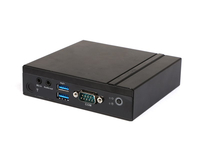 €

235.45

incl. 21.00 % BTW
€ 194.59 excl. 21.00 % BTW
Product Code:

VM23-F1-N345032E5G

Merk:

Giada

Artikelnummer:

00000068

EAN Code:

6949495705660
The ultra-compact thin client with only 3 cm height adopts a full metal chassis with fan-less and robust design.
Its silent operation makes it suitable for various adverse conditions. VM23 provides onboard 2G/4G memory and supports dual display with DP and HDMI ports.
It can be widely applied in thin-client, virtualization terminals, digital signage and industry control applications.
Er zijn geen uitgebreide specificaties beschikbaar voor dit product.